Quality of Life
Social Services in our St. Petersburg, FL Care Center
Alhambra Health and Rehabilitation Center understands that decisions are sometimes difficult and dealing with many of the details associated with medical care can be overwhelming. To help make it easier for patients and family members, our staff is available for:
Case management
Personal counseling
Family and resident support groups
Assistance with community healthcare resources
Discharge planning and coordination of home care
Advanced directive assistance
End of life/hospice support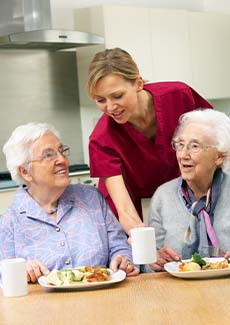 Superior Dining Services
Family members and guests are often welcome to enjoy our delicious food and eat with their loved ones. We will meet the needs of residents for physician-prescribed nutritional supplements and offer delicious afternoon and late-night snacks.
Registered dietitian
Selective menus
Therapeutic diets
Snacks
In-room meals available
Special events
Activity Programs
Our center runs daily programs and activities for our residents that are designed and overseen by our Activities Director and staff and are geared to providing physical as well as mental stimulation and promoting interaction.
One-on-one and in-room activities
Pet therapy
Residents are encouraged to participate in our daily programs.
Activities are designed to provide physical as well as mental stimulation and promote interaction.
Community outings and involvement
Entertainment
Religious and cultural services